Steampunk Digest - Nov. 2, 2018
Our weekly roundup of news and other happenings in the steampunk world
Steampunk Digest brings you news and other info from around the web. Sign up to get it by email before it's posted on the website. The email version also includes summaries of recent stories posted on The Steampunk Explorer.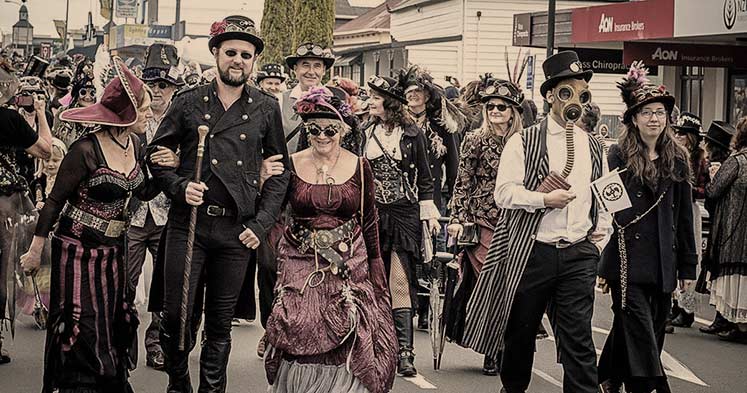 Steampunks will be flocking to Thames next weekend — not the river in England, but the town on the North Island of New Zealand. The fourth annual Steampunk The Thames festival, Nov. 8-12, promises "an action-packed, fun-filled weekend of high energy hoopla for grownups and young people alike."
The program includes music, drama, parties, tea dueling, workshops, an art exhibit, a fashion show, and a parade with costumed walkers and steampunked vehicles. The 2017 parade is shown above.
In addition to teapot racing — a sport invented in New Zealand — the festival will include "Punk Your Box," "Punk Your Ride," "Punk Your Window" and "Punk Your Pet" competitions. (You can see a sampling of steampunked pets in Delwyn Barnett's photo gallery from 2017.)
A former Gold Rush town, Thames was once the second-largest city in New Zealand. The festival is run by volunteers and aims to foster interest in the arts, while attracting "visitors to town to join us in having a rollicking good time."
See the festival website and Facebook page for more info.
Photo by John Sprague, JDS Imagery. Used by permission of Steampunk the Thames.
Michigan Steam Expo, a new steampunk convention, will take place May 26, 2019, at the Auburn Hills Marriott Pontiac in Pontiac, Michigan. It's produced by the Michigan Steam Committee, LLC, an all-volunteer group of steampunk fans. "The Committee's goal is to create an event that is as diverse and inclusive as our community throughout Michigan and the Midwest," says co-organizer Barbara Jean, aka The Ambassador. "We are actively working on recruiting community favorite presenters, vendors, and personalities to help make this event a spectacular experience."
Wakefire is set to perform its "genre-defying baroque pop and Celtic rock" at an evening concert.
Tickets cost $35 until Dec. 31 and $40 afterward. You can also sign up for late morning or early afternoon Victorian Tea. Seating for tea is limited and costs $30 in addition to registration.
The committee is not affiliated with Motor City Steam Con, which was last held July 13-15, 2018, in Novi, Michigan. That event won't be happening in 2019.
See the Michigan Steam Expo website for more info. You can learn more about steampunk activities in the area by joining the Detroit Steampunk Collective or Michigan Steampunk Society Facebook groups.
Steamposium might have been canceled, but steampunk enthusiasts in Seattle made the best of a bad situation by staging impromptu activities last weekend. They gathered at local restaurants, posed for photos at the Bell Harbor International Conference Center (seen above), and boarded Ex Scientia Victoria. The latter is a kraken-hunting vessel that sails to steampunk events in the area. The activities were made possible by Steamposium Refugees, a Facebook group set up shortly after the event's cancelation. Many of the participants have posted photos of their exploits.
Steamposium was set to take place Oct. 26-28 at the conference center, but the organizers canceled it on Oct. 23, citing low ticket sales.
Photo used by permission of Amanda Martindale.
Meanwhile, the organizer of TeslaCon revealed plans for a new West Coast convention slated for spring 2020 in Seattle. TeslaCon offers an immersive experience that includes theme park elements along with panels, vendors, "mad inventions," and other activities. TeslaCon 9 happens Nov. 15-18 in Madison, Wisconsin. We recently posted reports about the Madison convention and the new one in Seattle.
The second annual Jewelry City Steampunk Festival took place Oct. 27 in Attleboro, Massachusetts, and despite bad weather, "more than 1,000 patrons in their best Victorian-era garb could be seen around the city," reports Judee Cosentino of the The Sun Chronicle. Some activities were moved indoors, but one visitor with a mechanical wooden hand was unfazed. Samuel Sarette of Manchester, New Hampshire, "simply adjusted his long coat to protect his 'evolving prop' from the rain," she writes. He said that with all the layers in steampunk outfits, "It's better when it's cooler."
Another Sun Chronicle reporter, Prerna Jagadeesh, wrote about "Steampunk guru" Bruce Rosenbaum, a special guest at the event. To Rosenbaum, "steampunk is not just an artistic or technological sensibility, but rather a mindset," she writes. "At its core is what he calls Janusian thinking, a creative process utilized by greats like Einstein, Mozart, and Picasso that prioritizes divergent thinking."
He explains: "Your problem is in the center, and you come up with two opposite solutions to the problem, and then you figure out a creative way to synthesize them to create a more robust solution. That thinking in opposites is exactly what we do in steampunk."
Whitby Goth Weekend took place Oct. 26-28, drawing thousands to the seaside town in North Yorkshire, UK. And it wasn't just goths who attended the music festival — many folks in steampunk garb also showed up. Whitby is a natural location for a goth event, as the town was an inspiration for Bram Stoker's Dracula. "It is also home to several Gothic landmarks such as Whitby Abbey, which is thought to be the inspiration for Dracula's castle," write Henry Martin and Brendan McFadden in the Daily Mail.
However, the goth world is not all sweetness and dark these days. Buzzfeed News reports that "rivalries and backstabbing within the goth community could threaten its future." On one side is the official Whitby Goth Weekend founded by Jo Hampshire. On the other is Tomorrow's Ghosts, a newcomer that's now the main music festival.
"Many who have been coming to Whitby for decades remain loyal to Hampshire, who accuses Absinthe Promotions, the organisers of Tomorrow's Ghosts, of opportunism and capitalising on the crowd that she and her team have built," Buzzfeed reports. Others have "grown bored of Whitby Goth Weekend," and see Tomorrow's Ghosts as "a breath of fresh air."
The festival is a semiannual event held in spring and fall. Whitby also hosts a summer Steampunk Weekend.
Here are some other stories from the festival:
In pictures: Thousands take part in Whitby Goth Weekend (BT)
The best photos from Whitby Goth Weekend Halloween 2018 (The Yorkshire Post)
56 brilliant pictures from Whitby Goth Weekend as thousands descend on seaside town (Teesside Live)
See the website and Facebook page for more info.
Shown above are participants at Whitby Goth Weekend in 2014. Photo by Mike Smith (CC BY 2.0), via Flickr.
Author Mimi Matthews is out with A Victorian Lady's Guide to Fashion and Beauty, a book that "takes readers on a decade-by-decade journey through Victorian fashion and beauty history."
More from the blurb: "Women's clothing changed dramatically during the course of the Victorian era. Necklines rose, waistlines dropped, and Gothic severity gave way to flounces, frills, and an abundance of trimmings. Sleeves ballooned up and skirts billowed out. The crinoline morphed into the bustle and steam-moulded corsets cinched women's waists ever tighter." The book also looks at changes in haircare and cosmetics in Victorian times.
It's available in e-book and paperback formats from Amazon, B&N and other booksellers. See her website for more info.
Matthews' blog is worth checking out for her many observations about Victorian history. One recent post looked at Halloween parties, which "were rife with games designed to help young ladies see into their marital futures."
Author Gail Carriger will present "The Heroine's Journey: Hacking Ancient Story Structure for the Modern Market," a one-day writing master class that's part of a series produced by Locus Magazine. From the description: "We've all heard about the Hero's Journey, but how often do we hear about the Heroine's Journey? It's not about the gender of the protagonist, but about the tropes and archetypes forming the foundation of your story. Take control of your craft by delving behind the scenes for hidden messages, and learn hacks and tips to improve your work to make it more commercially viable along the way."
The class will include a Q&A session "about Gail's writing, career, the publishing industry, or anything else that strikes your fancy."
It's scheduled for Sunday, December 9, 11 a.m. to 5 p.m., at Preservation Park in downtown Oakland, California. The cost is $150. See the website for more info.
Prospect, an independent sci-fi film, is set for release this weekend in New York and L.A., followed by a wide release on Nov. 9. Shown at this year's South by Southwest Film Festival, it tells the story of a teenage girl and her father who travel to an alien moon, where they seek gems hidden in a toxic forest.
"Prospect offers a gorgeous steampunk aesthetic, combined with an aggressive outer-space opening sequence," writes Finley Ash of Modern Horrors in a generally positive review. "But once our main characters reach an alien moon, the cinematography goes next level. Gorgeously lit forest sequences and expansive prairies adorn the majority of the film as our characters explore the landscape."
The film had a 76% Fresh rating on Rotten Tomatoes (as of Nov. 1), based on 17 reviews.
Written and directed by Zeek Earl and Chris Caldwell, the film stars Sophie Thatcher, Jay Duplass, Pedro Pascal, Andre Royo, and Anwan Glover. See the website for more info.
Photo: Gunpowder & Sky.
SF/F book publisher Silver Empire is seeking Kickstarter funding for a trio of steampunk novels by Philip Ligon. They include This Strange Engine and This Mysterious Engine, the first two books in The Engine Series, and The King's Regret, a YA novel. This Strange Engine is about Alexander Asherton, whose "once promising future with the Church of England has given way to a clandestine organization which tracks and collects items of a magical nature. They provide the elixirs that keep Ash alive, and in exchange he uses the power the elixirs grant to 'acquire' what they desire."
The book is set to ship at the end of November, followed by This Mysterious Engine four to six weeks later. The campaign launched on Oct. 30 and seeks to raise $500 by Nov. 13. See the Kickstarter page and the publisher's website for more info.
Writer and podcaster Scotty O. White visited last weekend's Interdimensional Worlds Faire in Mobile, Alabama, and filed a report with a photo gallery. As we wrote last week, the free public event had areas for various geek genres, including Medieval & Fantasy, Steampunk, Sci-Fi, and Post-Apocalyptic.
White had this to say: "There were vendors of all sorts from soap dealers, to mask makers, comic book creators, artists and more," he writes. "There were tables of other fans groups such a the 501st and Rebel Legion, the local Roller Derby group was skating around. We were entertained by local musicians, belly dancing, sword dancing, and traditional Irish dancing. . . People were in costume from everything from Superheroes to their own unique creations and characters, and of course Steampunk ruled the day with costumes of top hats, leather and gears!"
His conclusion: "This was an outstanding event, one that I hope turns out to be an annual affaire."
Top Stories
October is over on The Steampunk Explorer stats counter. Here were the most-viewed stories of the month:
1. Steamposium Is Canceled — This was really two stories in one. It was first posted as a preview of Steamposium, the steampunk con in Seattle. Then it was updated and re-posted after the event was canceled.
2. Steampunk Fest in Oxnard — A preview of the Oxnard Steampunk Fest, held Oct. 13 and 14 in the California city's historic Heritage Square.
3. Steampunks Flock to Luxembourg — Photographer Dominique Linel was on hand at the Anno 1900 Steampunk Convention and allowed use of his photos in a stunning gallery. Lots of amazing costumes.
4. A Call for Makers in Waltham — The Watch City Steampunk Festival was seeking entries for a "Mad Science Exhibition" at next year's event in Waltham, Massachusetts. They wanted contraptions that "arrest the eye and tickle the brain." The entry deadline was Nov. 1.
5. "Victorian Nightmares" in Atlanta — A preview of the Atlanta Steampunk Expo, Oct. 26-28, where "Victorian Nightmares" was the theme.
6. Steampunk Digest - October 5, 2018 — Including the many attractions of Nantes; a call for artists in Kentucky; Steampunk Day at Crich Tramway Village; a distillery releases Steampunk Voodoo Spiced Rum; and more.
7. Mortal Engines Revs Up the Publicity — The publicity machine behind the film adaptation of Mortal Engines cranked into high gear in October with a new trailer, a behind-the-scenes video series, and a presentation at New York Comic Con. Based on Philip Reeve's post-apocalyptic steampunk novel, it's set for a December release.
8. Postcards from San Diego — Guest photographer Clara Blackheart captured the cosplay and other creativity at the 2018 Gaslight Steampunk Expo in San Diego. Many costumes took on Polynesian and nautical flavors. And you don't want to miss Dude Vader.
9. Steampunk Digest - October 12, 2018 — Including World Octopus Day, Ada Lovelace Day, a new album from Extraordinary Contraptions, and more.
10. Mark Your Calendars — Organizers of several major steampunk events announced plans for 2019, including dates, locations, themes, and guests. The story includes steampunk gatherings in Chicago, Cincinnati, San Francisco, and Maryland.
---
Keep up with news in the world of steampunk. Sign up for our free weekly Steampunk Digest, delivered to your inbox.
The Steampunk Explorer is now on Patreon. A monthly pledge of $1 or more supports our work and provides access to premium content. Get the details here.