Steampunk Digest - March 8, 2019
Our weekly roundup of news and other happenings in the steampunk world
Steampunk Digest brings you news and other info from around the web. Sign up to get it by email before it's posted on the website. The email version also includes summaries of recent stories posted on The Steampunk Explorer.
Norwegian composer Maja S.K. Ratkje has performed with orchestras, choirs, and an improvisational quartet known as SPUNK. But on Sult, her latest album, she sings and plays solo on an old pump organ augmented with metal tubes, a wind machine, guitar strings, and other accoutrements. The results are "quietly compelling," writes music critic John Lewis in The Guardian. "Using her homemade steampunk synthesiser, she's able to sound like a Bontempi organ, a wheezy accordion, a zither and the percussion section of an orchestra."
The album is based on music she composed and performed for a ballet inspired by Hunger ("Sult" in Norwegian), an acclaimed 1890 novel by Knut Hamsun. Technicians at the Oslo Opera House built the instrument "in close collaboration with the composer," she writes on her website. "Sounds are inspired by the streets of old Christiania (former Oslo), early industry, mechanics, futurism, street organ, early street song, psalms, street noises, cutlery and voices."
Sult (the album) is currently available in Europe as a CD and in a limited vinyl edition. In the U.S., it's set for release on March 15 via Forced Exposure. See her website for more info.
Photo by Erik Berg.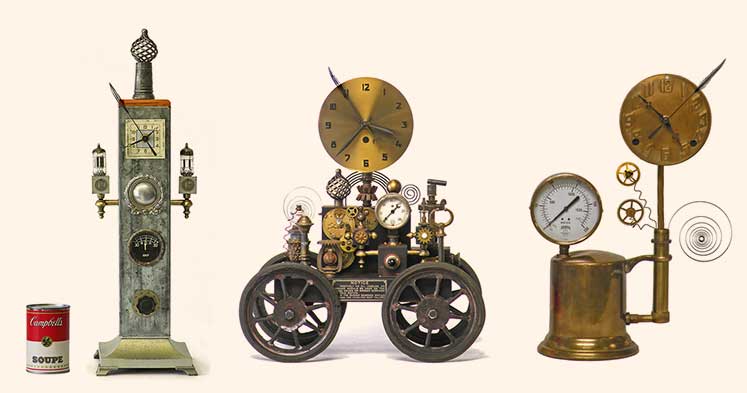 Steampunk sculptor Roger Wood is offering a new set of Klockwerks, the whimsical timepieces that he makes by hand in his studio in Hamilton, Ontario. They include the "Clock in a Glass Dome," a "Steampunk Clock on Wheels," and a "Tin Box Clock" made from an old parts drawer. He crafts his creations from old clocks and other objects obtained from antique markets, thrift stores, eBay, and specialty retailers.
He sells the clocks through his website as well as art galleries in the U.S. and Canada. See his website for more info.
"Wonder Tales of Science Fiction" was the theme for this year's gigantic Krewe of Endymion parade, held on March 2 as part of the Mardi Gras celebration in New Orleans. The Krewe of Endymion is one of three "Super Krewes" in the city and stages one of the largest Mardi Gras parades. This one paid tribute to Jules Verne, H.G. Wells, and pioneering filmmaker Georges Méliès through 49 theme floats. Depicted works included War of the Worlds, The Invisible Man, The Time Machine, 20,000 Leagues Under the Sea, From the Earth to the Moon, Journey to the Center of the Earth, and Around the World in Eighty Days.
The New Orleans Advocate posted a preview of the parade with a diagram illustrating the floats. You can view some photos from Saturday in this album on Flickr.
Steampunk was the theme for a Mardi Gras parade in a place you might not expect: Fresno, California. Held on Sunday, March 3, it was the city's 22nd annual Mardi Gras celebration. This one drew a crowd of hundreds, according to a blog post from The Fresno Bee. The story includes a short video and photos.
Azio Corp. has released a compact version of its retro keyboard, which appears to be a nice fit for a steampunk computer rig. The keyboard features mechanical keys designed to be "tactile and 'clicky,' reminiscent of the vintage typewriter," the manufacturer says. But it also sports some decidedly 21st century technology, including dual USB and Bluetooth interfaces. Key caps can be swapped so that it supports Mac and PC layouts as well as tablets. But at $219.99 USD, it's not cheap. The company also offers full-size keyboards with similar features. See the website for more info.
H/T to Julie Strietelmeier of The Gadgeteer, whose mention of "steampunk" in a blog post drew our attention to this.
Actor Bishop Stevens and comic book artist Tom Rasch have teamed up with some well-known names in the steampunk world to produce The Steampunk Adventures of Salem Tusk, a story that they hope to develop into a live-action feature film and TV series. Set in the late 19th century, it involves a covert team of operatives from the U.S. and UK who do battle against "megalomaniacal mad men, steam powered robots, voodoo kings, Arabian sorcerers, and time traveling dinosaurs."
Stevens, who will star in the title role, is a former pro wrestler-turned-actor. He also wrote the screenplay based on a story by Rasch. Executive producers include Jay Draper (aka Lord Naipo D'Mort) and Kristen Draper (aka Lady Katherine), who have been active in the St. Louis steampunk community. Mark Pettey, band leader of the Steampunk Stompers, is scoring the soundtrack. The full cast and crew are listed on the IMDb page.
So far, they've produced a couple of teaser trailers, which you can view on the production's Facebook page. In November, they staged a shooting at the St. Louis City Museum. The latest news is a production deal with Montalvo Media/360 Studios, whose CEO, Keith Barrows, is also listed as an executive producer.
Kickstarters
Scooter Moose Games is on Kickstarter with Steampunk Warlords, a player-vs-player video game involving arena combat. Each player chooses a team of three combatants drawn from a roster of 12 steampunk heroes, each with unique abilities. You can enhance their capabilities by drawing cards and winning battles. Designed for mobile devices, it will be available in English, Russian, Japanese, Korean, German, French, Italian, Spanish, Brazilian Portuguese, and Malay, the developer says.
The campaign launched on March 1 and seeks $25,000 USD in funding by March 31. See the Kickstarter page for more info.
Josh Heath is seeking Kickstarter funding for the second edition of Snowhaven, a tabletop roleplaying game developed by veteran Game Master Justin Weaver. The creators describe it as the "first offering in a new genre that we are calling 'Snowpunk.'" The genre "plays on many of the ideas of steampunk but with a harsher edge, a sense of chilling horror waiting on the frozen edges of the world. . ."
Also described as "dark fantasy," the game is set in a city "perched on the edge of a snowbound wasteland" but with great mineral wealth. It attracts "a sizable criminal element," and "greed and corruption abound within the city walls." It's compatible with the Fifth Edition of Dungeons & Dragons.
Heath, who is chief operating officer of High Level Games, is helping Weaver bring the game to market.
The campaign launched on Feb. 27 and has blown way past its original goal of $500 USD. It concludes on March 31. See the Kickstarter page for more info.
Illustration by JJ Peabody.
Events
The Wild Wild West Steampunk Convention happens March 8-10 at the Old Tucson Studios in Arizona. Special guests include Professor Elemental and a Who's Who of steampunk makers. Set at a movie studio and theme park, it's one of the larger steampunk conventions in the U.S. We recently previewed the event. See the website and Facebook page for more info.
"Leviathans of the Deep" is the theme for the Geneva Steam Convention, March 8-10 at the Lake Lawn Resort & Spa in Delavan, Wisconsin. The program includes panels, author presentations, a game room, vendors, and a maker exhibit sponsored by the Kenosha Steampunk Society. Dublin O'Shea and Fireball Federation Euphonics are the musical guests. See the website and Facebook page for more info.
The Brass Ring Academy and Cabaret is a steampunk-themed fundraising event for the New England Carousel Museum in Bristol, Connecticut. Activities include a fashion show, live music, teapot racing and educational presentations. It takes place Saturday, March 9, at the museum. See the website and Facebook page for info.
The Obtainium Works 7th Anniversary Gallery Show kicks off March 8-10 at the Temple Arts Loft Gallery in downtown Vallejo, California. Held over three weekends this month, the exhibition offers a chance to see many of the group's art cars. It begins on Friday at 6 p.m. with an opening celebration featuring steampunk vendors and art car rides. It opens formally on Saturday from 10 a.m.-2 p.m. See our previous coverage of the exhibition and get additional details on the Obtainium Works website.
Don't forget: You can track all the upcoming steampunk events in our calendars for North America and UK/Ireland.
Top Stories
Here are the most-viewed stories from February in The Steampunk Explorer:
1. "Almost Like a Stagecoach," featuring David Carlyle's Victorian trailer conversions.
2. A Weekend at the Ball, a report and photo gallery from the Edwardian Ball and World's Faire in San Francisco.
3. Steampunk Digest - Jan. 4, 2019. Somehow, a column from January made the list for February.
4. Steampunk Year in Review: 2018. Another story from January.
5. Steampunk Digest - Feb. 22, 2019, featuring Makeup Siren's African steampunk cosplay and scenes from SyFy Bartow.
6. Clockwork Alchemy Returns to SF, a preview of the steampunk convention in San Francisco.
---
Keep up with news in the world of steampunk. Sign up for our free weekly Steampunk Digest, delivered to your inbox.
The Steampunk Explorer is on Patreon. A monthly pledge of $1 or more supports our work and provides access to premium content. Get the details here.