Steampunk Digest - April 5, 2019
Our weekly roundup of news and other happenings in the steampunk world
Steampunk Digest brings you news and other info from around the web. Sign up to get it by email before it's posted on the website. The email version also includes summaries of recent stories posted on The Steampunk Explorer.
The Stories Art Gallery in London is set to host "Exposed! The Peculiar Photographic Revelations of a Victorian Eccentric," an exhibition featuring the work of 19th century photographer Samuel Heracles Gascoigne-Simpson. Allegedly rediscovered in an attic at Bumforth Manor, they include fantastical scenes such as "The Astonishing Steam Rhinomotive" and "Dr. Crighton's apparatus for the exploration of other worlds." Gascoigne-Simpson passed away in 1919, but somehow manages to maintain a Facebook page.
He is actually the creation of contemporary London photographer Nick Simpson, who stages the scenes with models and props, and captures them with an 1867 Petzval lens on a mahogany plate camera. He then employs a variety of manual techniques to make the photos appear aged. In the Steam Rhinomotive photo, he also used an image-editing program.
The exhibition opens April 9 and runs through April 26. Simpson will be giving talks on his work on April 13 at 1 p.m. and 3 p.m., both at the gallery. Learn more on the gallery website. You can see additional photos on the Bumforth Manor website. Prints are available for sale on 1stDibs and Artsy. The latter sites include details about how Simpson creates the works.
Photos © Nick Simpson.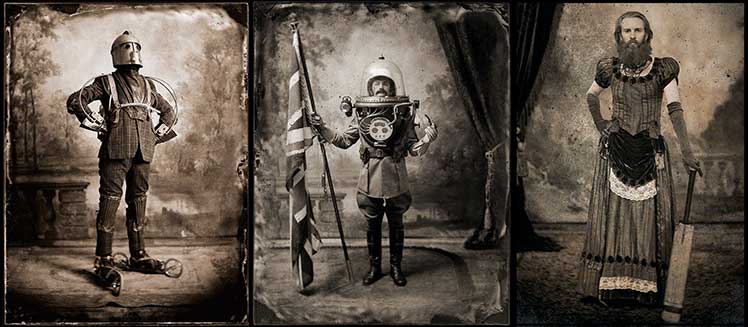 Two recent announcements from author Gail Carriger: First, she's planning an October 19 release for Fan Service, described as "an omnibus collection featuring two previously published Supernatural Society Novellas plus a spanking new novelette… Meat Cute AKA The Hedgehog Incident." The novellas are Romancing the Inventor and Romancing the Werewolf.
Why call it Fan Service? Because "these three stories are my most requested character wrap-ups from the Parasol Protectorate series," she writes. It will be available in a limited edition of 550 signed copies, and will be the only opportunity to get the novellas in hardcover. She eventually plans to release an e-book version of Meat Cute, but "you'll have to wait a while," she cautions. Bottom line for Carriger fans: "It will sell out," so "pre-order now." Get the details on her website.
Second, she's planning a May 18 release for The 5th Gender, described as a "light-hearted romantic cozy mystery, set on a space station, featuring an adorable alien from a culture with five genders and his human detective crush." She's written this one as "G.L. Carriger," a pseudonym reserved for her more-explicit tales. Again, you can learn more on her website.
Carlo Spirito, a sculptor and model maker in Saco, Maine, is seeking public venues to display his latest work, a diorama depicting an airship. He calls it the Skyship ERIS, and it's operated by a group of gnomes (Gnomo) from northwestern Italy.
"A typical Gnomo is about 2-3 feet tall, and has a stocky, heavy-boned stature," he writes on his blog. "They are proportionately very strong and quick for their size. Each clan is led by the male and female elders, usually a married couple. A Shaman guides and advises on the spiritual aspects of gnome life."
The diorama measures about 24 inches tall and wide. The blog has extensive details (including photos) about its construction and backstory.
"I only do occasional Steampunk pieces," he told us. "My other work is realistic dioramas and other fantasy themes."
He's seeking locations in the Northeast U.S., preferably New England, to display his work. You can reach him through his Facebook page, which also includes other photos of his dioramas.
Airship photo by Gary Lowell.
The Morris Museum in Morristown, New Jersey is going all-in this year with steampunk. We've already told you about "Simply Steampunk," the contemporary kinetic art exhibition tied to the museum's renowned collection of mechanical musical instruments and automata. Now it's joined by an exhibition highlighting steampunk fashion from three designers: Paige Gardner, Amber O'Boyle Kulp, and Colleen O'Neill. Their work is accompanied by Victorian-era clothing and accessories from the museum's collection.
"Steampunk Fashion" opened on April 3 and runs through Sunday, Oct. 6. "A Cache of Kinetic Art: Simply Steampunk" runs through Sunday, Aug. 11. See the museum's website for more info.
Steampunk enthusiasts in the Houston area now have a new place to hang out and grab a beer. Megaton Brewery, which opened March 30, describes its décor as a blend of steampunk and post-WWII (aka atompunk) motifs. It serves a mix of craft beers from other breweries and its own concoctions, which include Mass Appeal, Nuka-Juice, Atomic Chariot, and Iron Dome. In addition to imbibing, patrons can play pool, air hockey, arcade games, chess, and checkers. It's located at 808 Russell Palmer Road, Kingwood, Texas, in northeast Houston.
Photos by TG Burnett Photography. They're from the Grand Opening on March 30.
Choice of Games has released The Superlatives: Shattered Worlds, a 216,000-word interactive novel and text-based computer game by Alice Ripley. The player assumes the role of the Arbiter, whose is assigned to facilitate peace between Mars, Venus, and Earth during the reign of Queen Victoria. But an assassin is after the Queen, so "you must find her killer, unmask the Mysterious Officer he serves, and stop an otherworldly invasion before it's too late." It's a sequel to The Superlatives: Aetherfall, which was released in 2017.
As the story unfolds, the player is presented with multiple choices that determine the subsequent narrative. You can play the first two chapters for free. It's available in versions for the PC as well as Apple, Android, and Amazon mobile devices. See the website for more info.
The first Big River Steampunk Spring Faire took place March 30 and 31 in Hannibal, Missouri, drawing about 500 steampunk enthusiasts despite rainy weather. That's according to Edward Husar of the Herald-Whig (Quincy, Ill.), one of several local journalists who covered the event.
It was conceived by Ken and Lisa Marks of the Hannibal History Museum, who also produce the Big River Steampunk Festival over Labor Day weekend. "[Lisa] Marks said the decision to host a spring steampunk event sprang from feedback that many people couldn't attend the fall festival because they go out of town on Labor Day weekends," Husar writes. "The Spring Faire was intended to be a smaller, more intimate gathering — in contrast to the fall event, which fills the streets of Hannibal with about 15,000 people over four days."
The Hannibal Courier-Post also has a story about the Spring Faire, plus a photo gallery. Local TV stations WGEM and KHQA have their own reports.
Sad news from New York's Hudson Valley: "It is with heavy hearts that we announce there will be no Flights of Fancy 2019," wrote Dolly and Birdie of Hudson Valley Steampunk on their Facebook page. They were referring to the outdoor steampunk event held in fall 2017 and 2018 at the Old Rhinebeck Aerodrome in Red Hook, New York. But fear not: "Our wheels are already spinning for our next awesome event in our Hudson Valley region...stay tuned," they wrote.
They most recently co-hosted "Steampunk Sunday: Lunar Tendencies," a festival held March 24 at the Hudson River Museum in Yonkers, New York. They've also organized tea dueling bouts at other events. Flights of Fancy was a steampunk gathering with an aerial twist, as it included biplane rides and a "History of Flight Air Show." Learn more on the Hudson Valley Steampunk website.
Cooperative Performance in Milwaukee will present "Machina Persona," performance art that "seeks to create tangible representations of the humors that we find unexplainable," according to the website. "From anger and sadness to fear and joy, this devised piece will personify the very emotions that define our daily lives. With steampunk influence, an ensemble of actors will interact as the individual forces driving the human machine, revealing the kinks and malfunctions that different social challenges and mental disorders create along the way."
We're not sure what that all means, but it does have something to do with steampunk.
Shows are scheduled for Fridays and Saturdays, 7 p.m., April 5 through April 20, at North Milwaukee ArtHaus, 5151 N. 35th Street, Milwaukee, WI 53209. See the website for more info.
U.S. Events
221B Con is a fan convention in Atlanta "for all things Sherlock Holmes," including the original Arthur Conan Doyle stories as well as the CBS and BBC series. The program includes panels on fan fiction, costuming, Victorian history and offbeat topics such as "Tattoos and Sherlock Holmes." Guests include authors Kelle Z. Riley and Howard Ostrom. It takes place April 5-7 at the Atlanta Airport Marriott. See the website for info.
Vintage Sewing Adventure, April 6-7 in Tulsa, Oklahoma, is a weekend of workshops and presentations related to fabrication of historic garments. It includes tours of the Vintage Sewing Center & Museum, featuring a collection of old sewing machines, many restored to working order. Presenters include steampunk seamstress Madame Askew, whose sessions include "Techniques for Dressing the Victorian Lady" and "Corsets: Resources for making, purchasing, fitting, and care." See the website for info.
Up for next weekend: Clockwork Festival, April 13 at the National Watch & Clock Museum in Columbia, Pennsylvania (see our recent story); and Gaslight Gathering 9, April 12-14 at the Handlery Hotel San Diego, with Abney Park, The Eternal Frontier, Doc Phineas, Dyno Staats, Drake & McTrowell, and Dude Vader (see the website).
UK Events
A reminder about TimeQuake, the immersive steampunk event set for April 5-7 at the BEC Arena in Manchester, UK. The program includes set builds, music, workshops, games, and parties on Friday and Saturday night. Attendees can peruse zones for different subgenres: "Desolation" (postapocalyptic); "Deadman's Gulch" (Wild West); "SteamWars" (Empire vs Rebellion "with a punk twist"); "TimeLords" (time travel); and "Darkhold" (fantasy). It's organized by the Ministry of Steampunk. See the website and Facebook page for more info.
The Spring edition of Whitby Goth Weekend takes place April 12-14 at Whitby in North Yorkshire. It's a large Goth festival that also attracts a sizable steampunk contingent. See the website for more info.
As always, see our Events Calendar for all upcoming events.
Top stories of the month
Here are the most-viewed stories from March in The Steampunk Explorer:
1. Steampunk Bowling in Los Angeles (Highland Park Bowl and Lucky Strike Hollywood)
2. Steampunk on Parade in Pensacola (Krewe of Anarchy Mardi Gras float)
3. Steampunk Digest - March 15, 2019 A steampunk sculpture in Cedar Rapids; New Jersey paper tackles steampunk; etc.
4. Steampunk Digest - March 1, 2019 - New steampunk TV series; Scenes from Stupid Cupid Steampunk Ball; etc.
5. Steamtastic Beasts in Cincinnati (International Steampunk Symposium)
---
Keep up with news in the world of steampunk. Sign up for our free weekly Steampunk Digest, delivered to your inbox.
The Steampunk Explorer is on Patreon. A monthly pledge of $1 or more supports our work and provides access to premium content. Get the details here.